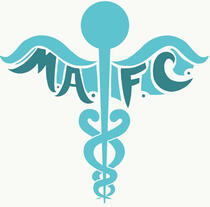 Meadville Area Free Clinic
---
Meadville Area Free Clinic, providing free health care to residents of Crawford County since 1997
About
---
The Meadville Area Free Clinic (MAFC) provides free primary care services to adults, age 18 - 65, who have no health insurance, Medical Assistance, Medicare, or Veteran's Benefits. Persons with chronic health problems such as diabetes, high blood pressure, and asthma can receive care and monitoring at the clinic.
MAFC services are free of charge, and if the needed medical services cannot be provided by the clinic, referrals are made to specialists who may offer care at a free or reduced cost.
Some prescriptions are available free to patients who qualify due to income levels.
MAFC does not provide emergency care and patients are urged to seek such care at an emergency facility.
History
---
The Meadville Area Free Clinic was founded in 1997 to meet the needs of local uninsured patients who were not eligible for other medical aid.

MAFC is staffed by volunteer clinicians and other volunteer staff. All professional staff are licensed or certified in their field. We have one part time paid employee and an independent volunteer Board of Directors governing the clinic. These dedicated individuals give their time and talents generously to serve up to 1000 patients annually.

The majority of our funding comes from kind and generous community members as well as being supported by United Way for over 20 years.
Contact
---
Patients are seen by appointments only, please call us to make an appointment.

If you would like additional information or to make an appointment, please call us at:
814-333-3932
Location
The Meadville Area Free Clinic is located at:
505 Poplar Street Suite 206, Meadville, PA 16335
Follow us on Facebook to remain up-to-date on all news and events
Mission Statement
The mission of the Meadville Area Free Clinic is to provide needed health care services completely free of charge to any community resident who has no health insurance, Medicare, or Medical Assistance. Volunteers, local agencies, and donors will participate collaboratively to improve the health and well being of the community by assisting this needy population to meet their primary health care needs.
Gallery
© Meadville Area Free Clinic. All rights reserved.